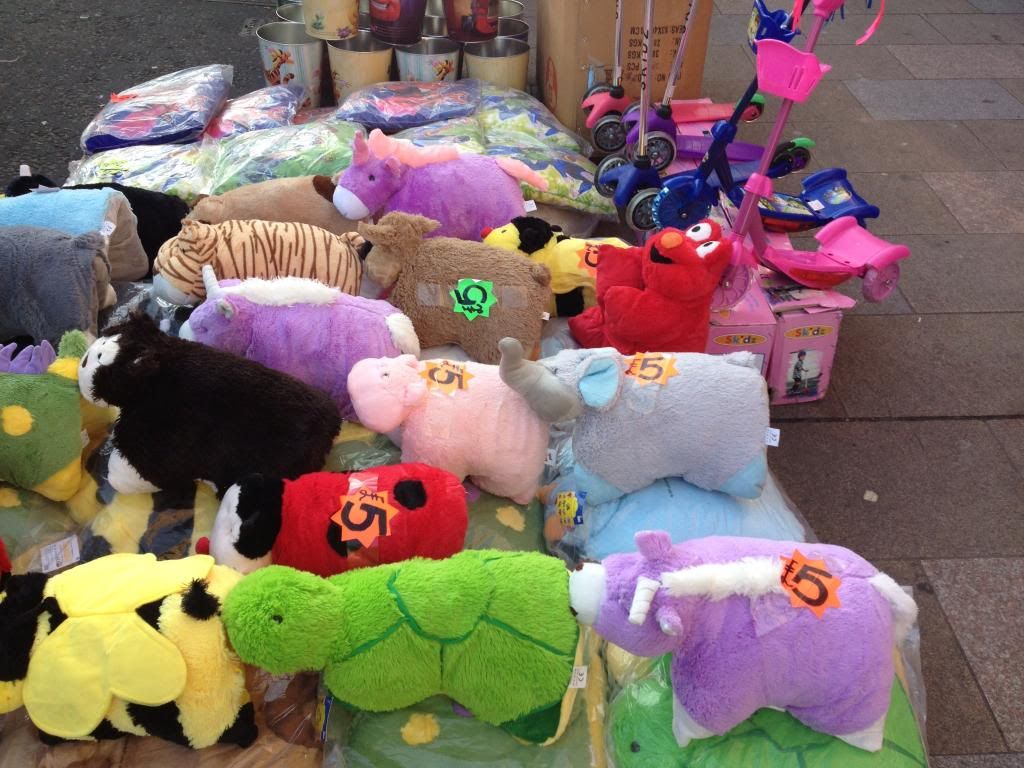 Deptford market it an amazing place with an authentically local feel about it that is too often missing at more trendy boutique style markets. This is a real place for real people. Also, you can get anything you want. Anything. And almost always at a wildly reasonable price. One stallholder told me he had been working there for 32 years and the man's patter was so on point I could believe he was three decades deep in the game.
"if you can't see what you're looking for, just ask. I'm looking for your money, and so far I can't see it"
A recent addition to the market has been young marketers, trainee traders if you like, supported by a council development programme. On the Saturday we were there (9th December) the young traders were housed in a little market on the square. As part of the overall aim of the project to bring more people to the market (crucially in a way that supports what is already there) Chill Pill were invited to collaborate with site specific theatre director Peader Kirk in order to provide some Christmas entertainment. We thought that the best way to do this would be to fit in with the existing market, and see what happened if we tried to run a stall ourselves! As you can see it was decorated 'tastefully', although we did have a few people enquiring after the trees rather than our poems…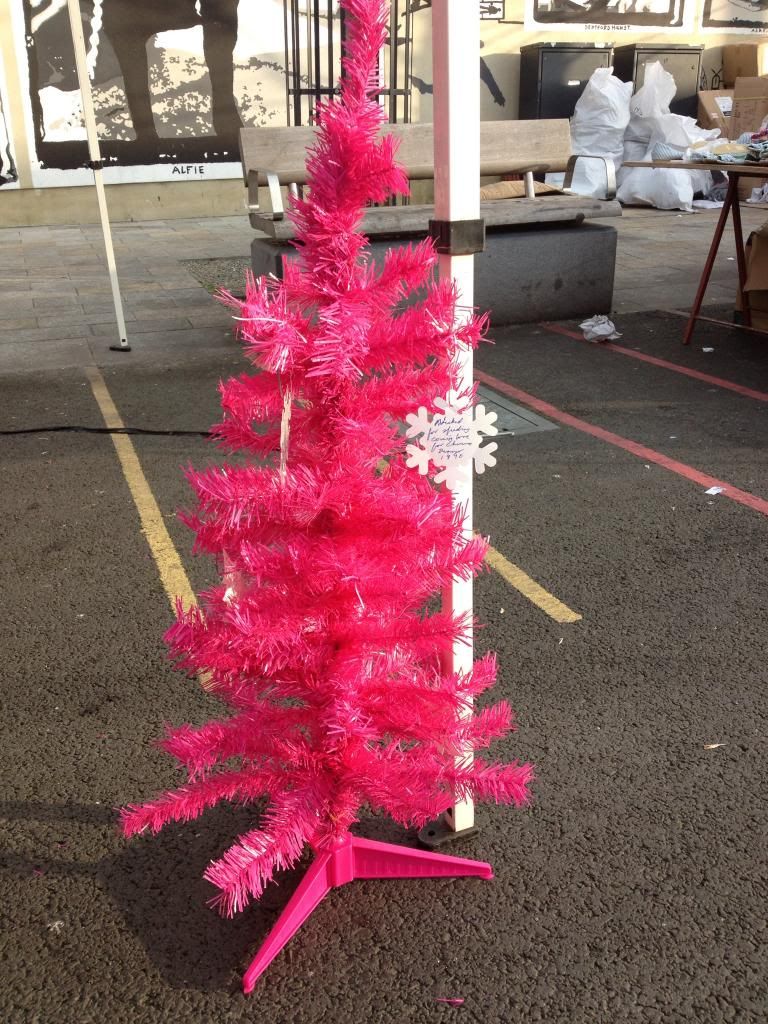 On arrival we got chatting to the young traders; about their wares, what inspired them to get started, their creative processes, business so far etc – The four of us chill pill poets (me, Raymond Antrobus, Deanna Rodger, and Adam Kammerling) then wrote little 'instant' poems about each stall-holder individually, before belting these out with a few of our own pieces over the PA. The marketers were really happy to have their stalls written about and promoted in this unusual way, as for young newcomers vocally attracting custom can be a daunting thing to go about.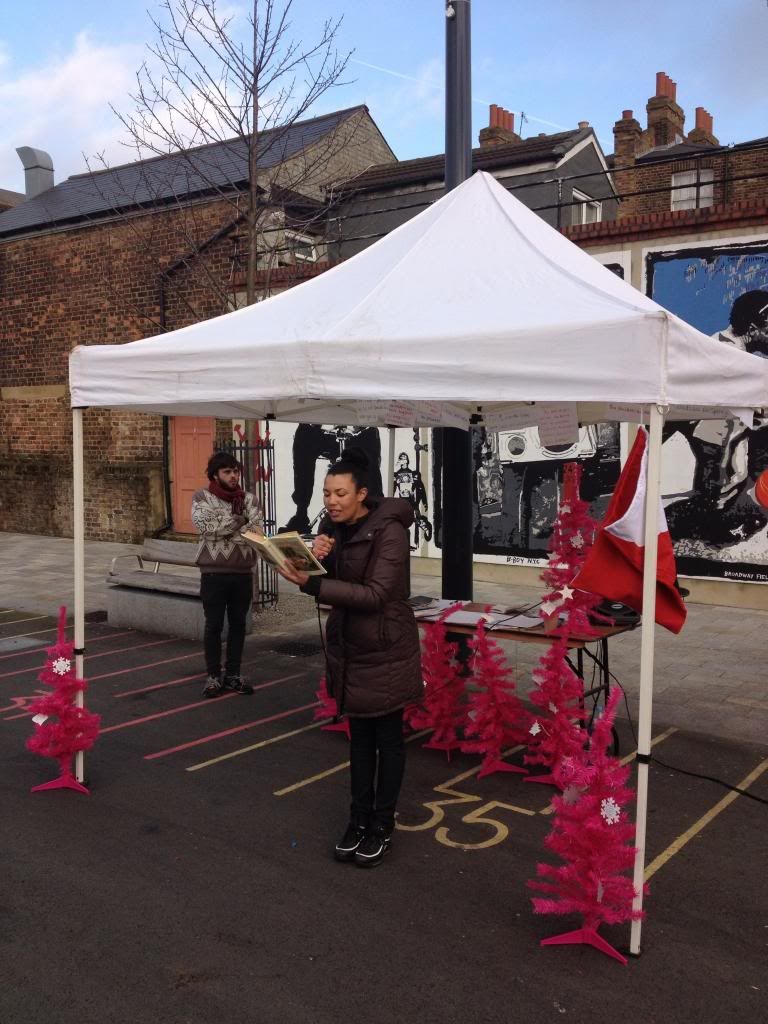 Apart from these sporadic performances over the PA (at which we also read some of our favourite 'seasonal' poems by other authors) we also tried to bring a bit of poetry to those stall holders and bargain hunters who weren't naturally passing our way. Our strategy was two fold:
Wandering with 'the poetry stocking', from which people could pull titles of Christmas poems, which we would then read to them. Check out Adam doing his thing below. These guys offered us a quid when we were done. Despite us reading them a pretty bleak (although brilliant) poem called 'snow' by Vladimir Holan

Chatting to stallholders and punters, and asking for their own Christmas moments or memories, or alternatively their wishes for themselves or others for this years festivities. We noted these contributions down on Christmas labels and hung them from our trees, before Ray compiled a beautiful little crowd sourced Christmas poem from the results.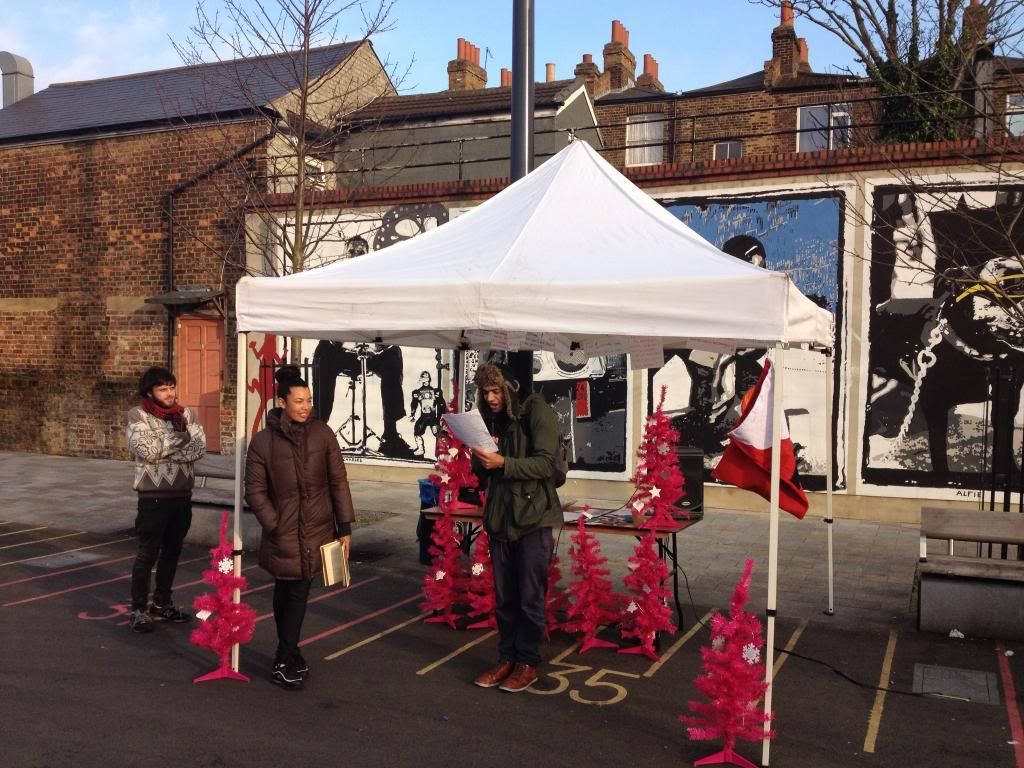 The final service we offered was an idea I pinched from Poetry Takeaway which I saw at Latitiude – where people could come up and ask to have a poem written for them, about anything they wanted – again the turn around for these was mega quick but this video of Adam reading his to the young woman who requested is evidence of what can be achieved in five minutes!
All in all it was a cracking day, and definitely considering trying to get a plot for another stall in the future! Below you will find the text for my pieces for the marketers… Enjoy!
Dr. Denim
A battered leather suitcase
Full of old jeans, but
Everything is in here
Un-pick and re-stitch
Zips, hems, pockets
Make ties, bags, wallets
Make anything you want
Made to order, man's on it.
Dr. Denim, if you're passing the stall
Pop your head in, certified swag
What d'you reckon?!
Niamh's preserves
Niamh went from jewellery to jam.
24 carat cake jam.
sticky fingers in the workshop,
berry red splatters on the worktop
roasted red pepper and peach,
each deep flavour worked on and brought through…
Compliment your cheese with a chutney,
have it with a brie or a cheese that's more crumbly
Perfect for a feed if you're hungry
Deep in the fridge late night with the munchies
Branstons? What?!
Yeah that's a brand that you've seen and heard
And so it may seem absurd,
but you're much better off with one of Niamh's preserves!