For me, schools and community projects are part of being a poet, not just something I do on the side. Since 2005 I have gathered a vast amount of experience working across the UK in schools, pupil referral units, museums, hospitals, housing estates, prisons, and youth clubs. I have worked for agencies such as Apples and Snakes, The Poetry School, and Creative Partnerships, as well as directly with countless schools. Excellent references are available on request.
I am a positive and inspirational young man who makes passionate and honest hip hop, and writes entertaining and engaging spoken word poetry. My work explores issues that are important to young people, in a way that is accessible to them. Crucially, I make poetry fun!
One Breath by SimonMole
This piece was commissioned by Apples and Snakes as part of their project SPIN, and can be found on the SPIN compilation CD. It's aimed at primary age kids, but has been successful with adult audiences too!
I am happy to do one-off performances or workshops, but do prefer working with schools or communities to create longer-term projects or residences that involve me writing original poetry too. Find out more about past projects here.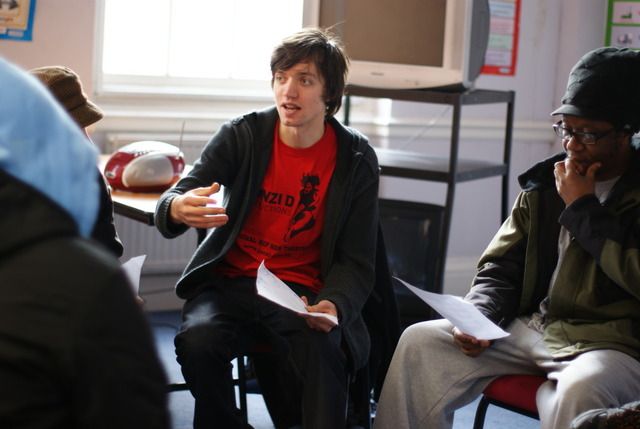 Creativity and self-expression are at the centre of my fun and inclusive process, but within this I have plenty of experience in all keystages delivering workshops that hit specific curriculum targets. This picture was taken at Pupil Referral Unit in Islington where I ran a project for Jonzi-D using Hip Hop to deliver the GCSE unit on Othello.
To book me for a workshop, or chat about some ideas, contact: simon@simonmole.com
var _gaq = _gaq || []; _gaq.push(['_setAccount', 'UA-34754545-1']); _gaq.push(['_trackPageview']);
(function() { var ga = document.createElement('script'); ga.type = 'text/javascript'; ga.async = true; ga.src = ('https:' == document.location.protocol ? 'https://ssl' : 'http://www') + '.google-analytics.com/ga.js'; var s = document.getElementsByTagName('script')[0]; s.parentNode.insertBefore(ga, s); })();